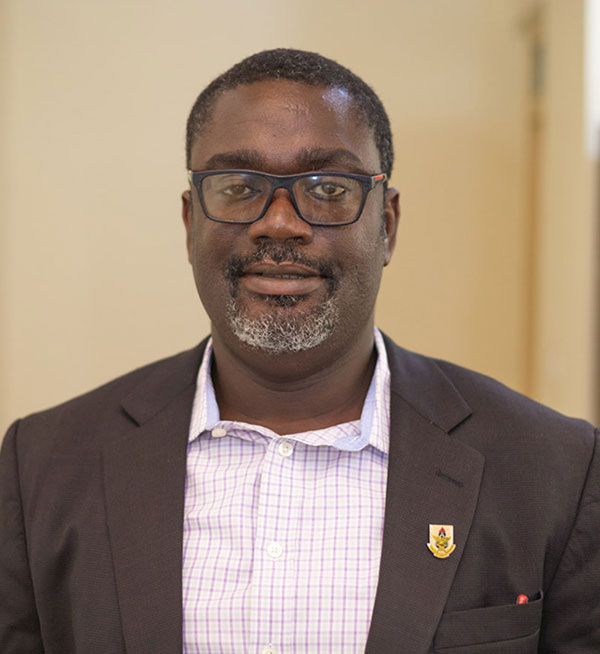 Prof Kwabena B. Nyarko
Position (at KEEP)

Project Lead

Position (at KNUST)

Head of Department

Department

Department of Civil Engineering

Office

401, Vodafone Block

Email

k.nyako@keep.knust.edu.gh
Profile
Professor K. B. Nyarko, a Sanitary Engineer, with research interest in the field of Water and Sanitation. His research cover Water Distribution System modelling, Non-revenue water reduction, Sanitation Technologies Assessment, and Water and sanitation service delivery to low income urban settlements.  He has been teaching at the Department of Civil Engineering, KNUST, since 1998. He is currently the head, Department of Petroleum Engineering, KNUST.
He is currently leading three-year research project on addressing sanitation technology challenges in Ghana funded by UNICEF Ghana to supporting sustainable and effective sanitation service delivery through addressing the inherent technical challenges in the sanitation sector. Specific objectives are development of sector guidelines and tools for sanitation technology and faecal sludge management, development of low-cost sanitation technologies.
He led a team in the Department of Civil Engineering, KNUST to prepare the first Hydraulic model of the Kumasi Water Distribution system for GWCL in 2003. He was a key member of the research team that developed the Life cycle cost approach to Water, Sanitation and Hygiene service delivery (WASH). He was the lead researcher and country director for the Ghana component of the WASHCost action research project that determined the real disaggregated life-cycle costs of sustainable water, sanitation, and hygiene service delivery. He was also the lead researcher and team leader for the WASHCost project in Sierra Leone. He led KNUST's input in an international research project, WASHTech, that developed the Technology Applicability Framework for selecting and taking Water, Sanitation and Hygiene (WASH) technology to scale.
Prof. K. B. Nyarko has over eighty publications to his credit in peer reviewed journals, conference proceedings, briefing notes, working papers and book chapters