In partnership with Karpowership Ghana and United Nations Education, Scientific, and Cultural Organisation (UNESCO), the KNUST College of Engineering organized a seminar on the theme "Engineering Innovation for a more resilient World, the Role of an Engineering Student" on the 4th of March 2023 at the Kumapley Auditorium to commemorate World Engineering Day 2023. 
Speaking at the program, Prof. Kwabena Biritwum Nyarko, Provost of the College of Engineering, KNUST, said 'World Engineering Day' is an opportunity for reflection on the impact of engineering on the world. He stated that engineers play a critical role in shaping the world and are at the forefront of progress and development, from designing and building infrastructure to developing new technologies and innovating solutions.
According to him, technologies such as the telephone, camera, and music players, among others, evolved due to engineering.  "Engineering innovation contributes to renewable energy, smart infrastructure, water management, digital connectivity, and health technologies," he added.
He mentioned that Engineering students have a unique role in innovation for a more resilient world. "You are the profession's future, and your education equips you with the knowledge and skills needed to innovate and tackle the challenges of the 21st century and beyond," he admonished.
He urged students to collaborate and engage with communities and stakeholders and to prioritize accessibility and affordability to ensure that all can use solutions, regardless of their economic status.
He called to action all engineering students to use their knowledge and skills to impact the world positively.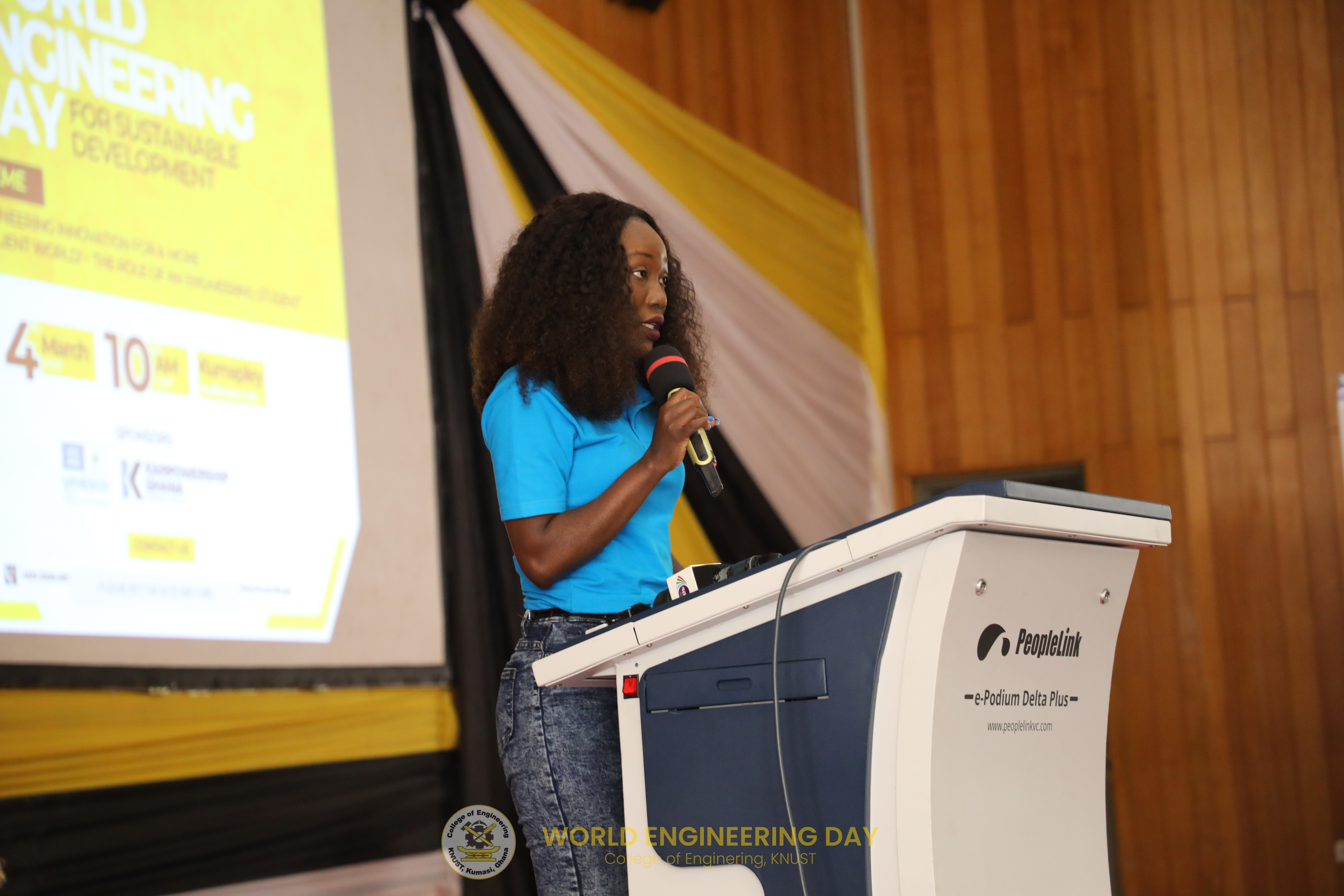 The Communications Manager of Karpowership Ghana, Sandra Amarquaye, applauded engineers for their contribution to national development. She mentioned that Karpowership is an independent power-producing company that generates electricity and is Ghana's most reliable and efficient power plant.
"The world faces many challenges today, and the solutions to these problems require multifaceted approaches. These problems will only be fixed with engineering innovations," she added. She indicated that World Engineering Day is deemed very important and urged students to take up courses in the field of Engineering.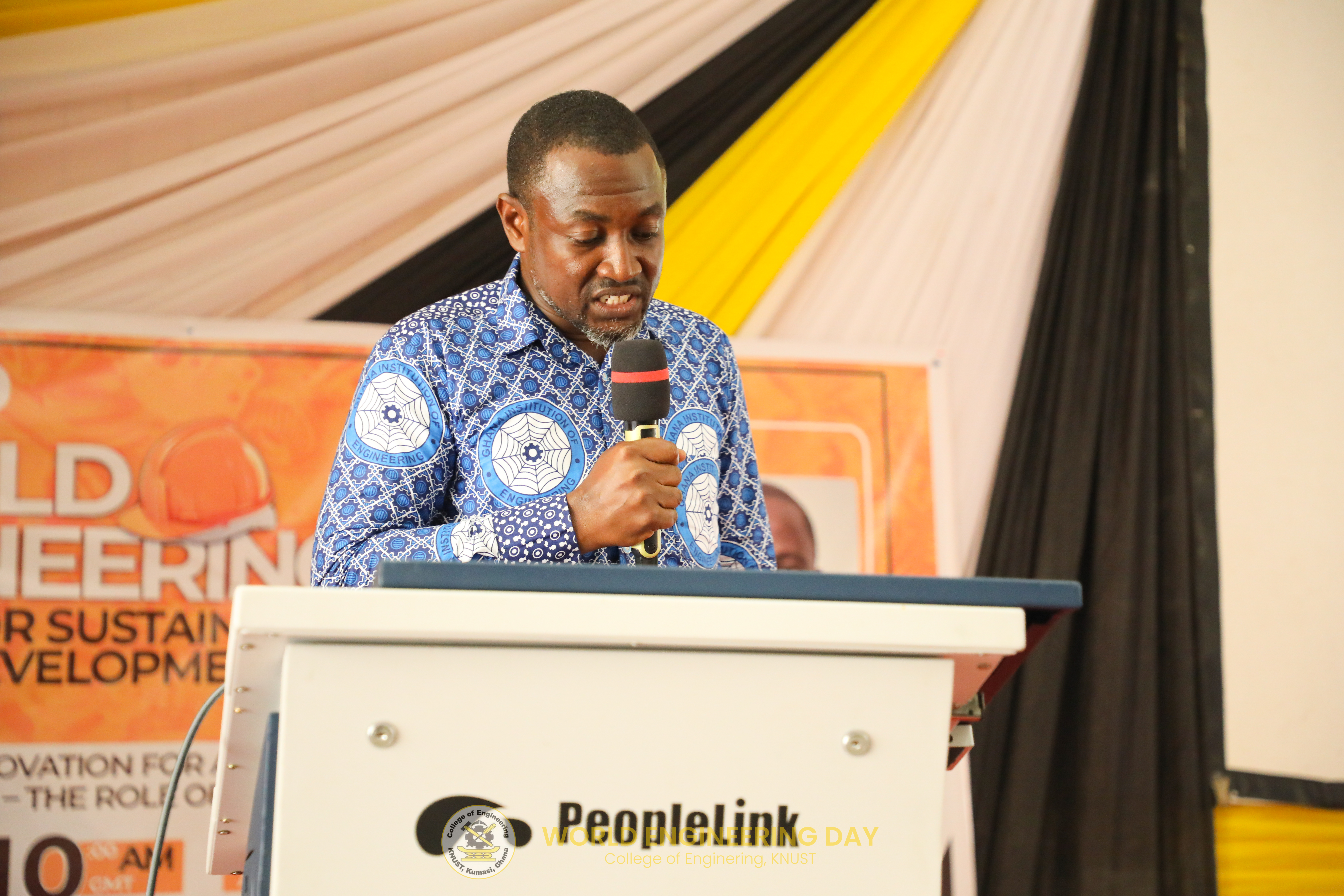 Ing. Emmanuel Wireko, the Senior Clinical Engineering Manager of the Komfo Anokye Teaching Hospital, urged the students to develop innovative ideas to solve the country's fundamental challenges.
He displayed some of his works, including a theatre lamp, a prosthetic arm and leg, a water purity tester, and a robot sniper. He also urged leaders to scout for young innovative talents.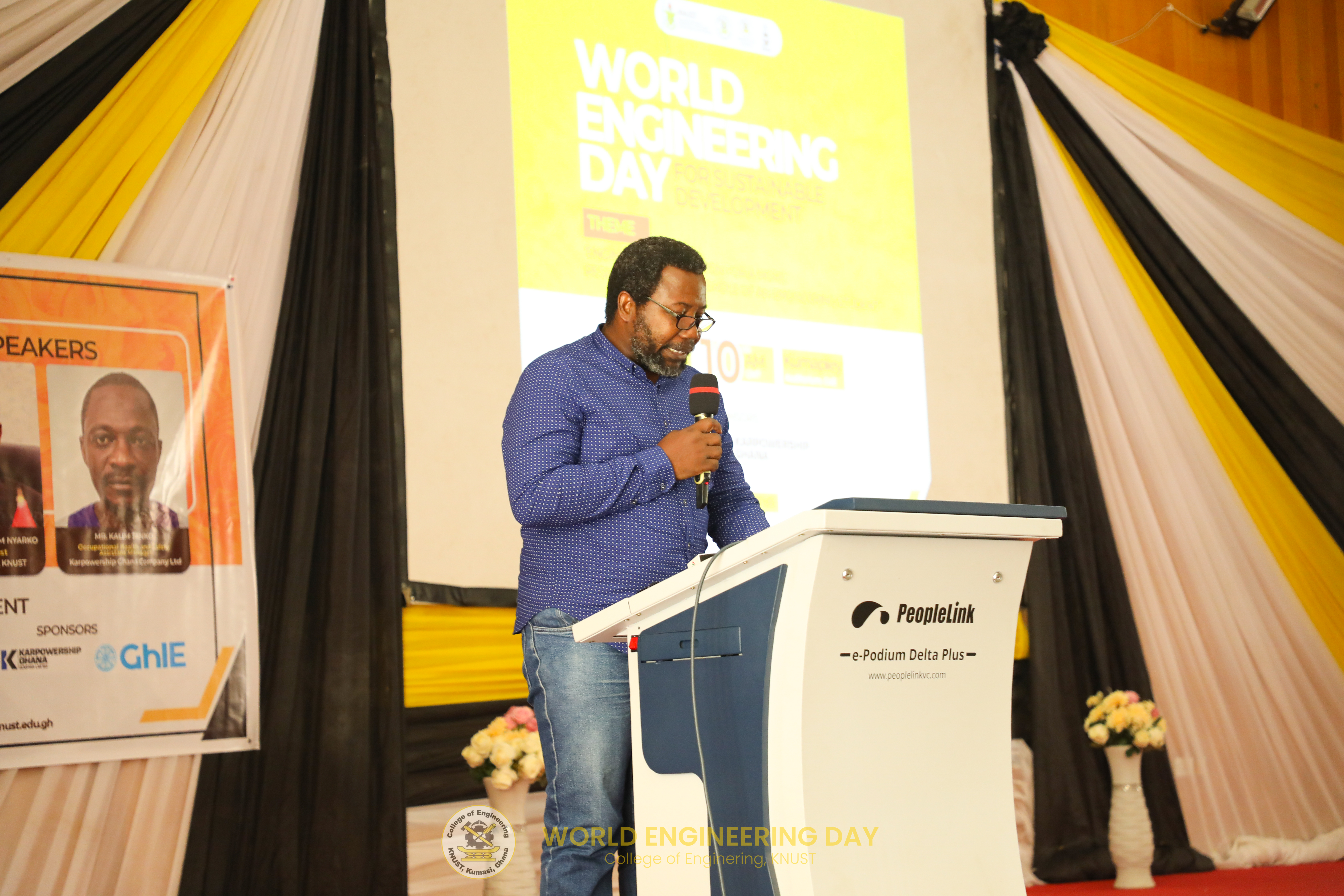 The Chief Operating Officer at the Ghana Commission of UNESCO, Mr. Appolonuis Asare, said engineers worldwide should reflect on how they have impacted the world through technology transfer and training opportunities, as well as how they have contributed to the advancement of knowledge in their respective fields.
He said the importance of engineering to the planet led UNESCO to recognize March 4th as World Engineering Day for Sustainable Development (WED4SD).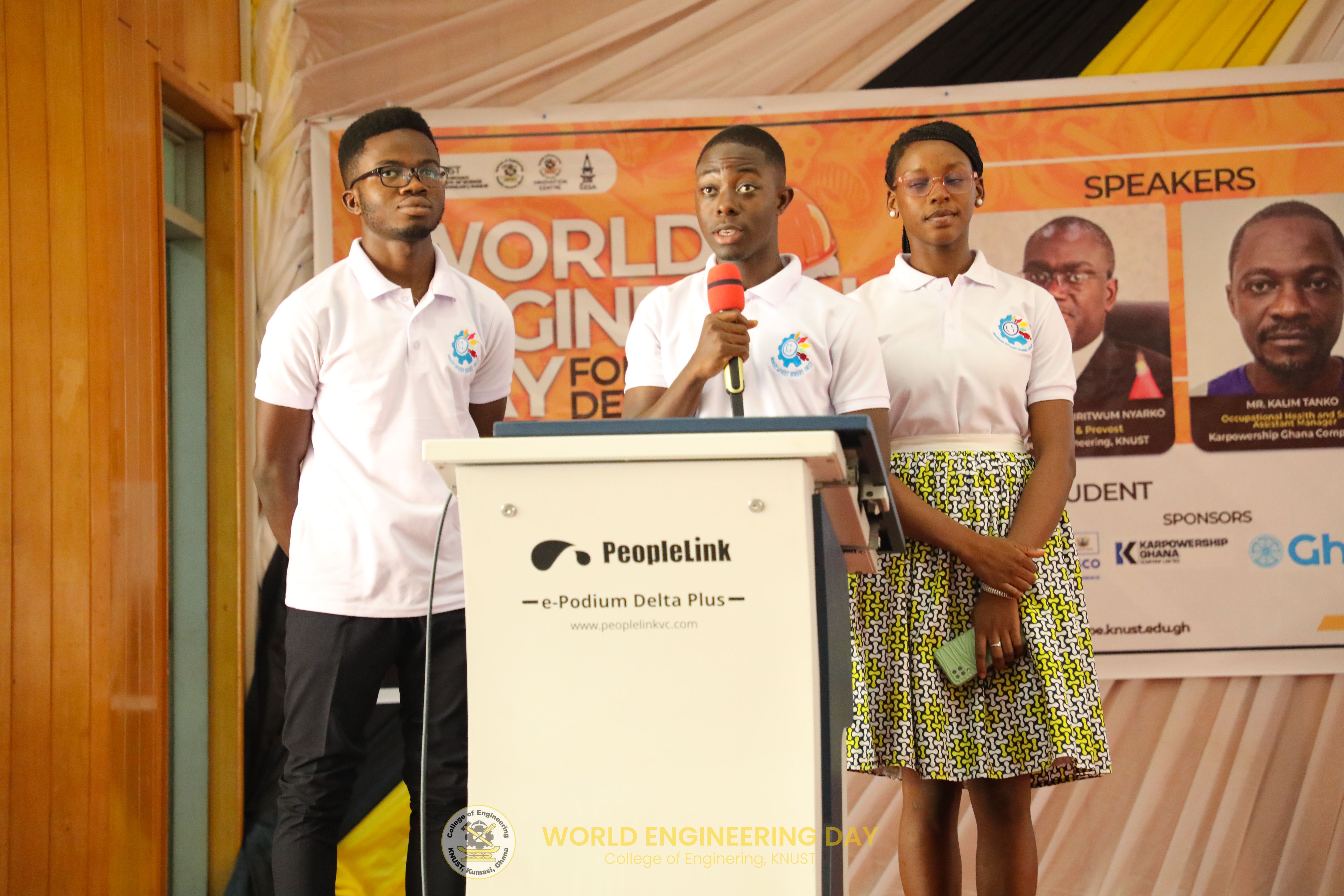 Engineers Without Borders (EWB) is a voluntary engineering student club at the KNUST College of Engineering focused on solving practical problems in disadvantaged communities in the country. They presented some of their projects at the World Engineering Day seminar, including a water distribution system, a rainwater catchment project, and a cook stove project.
There was also an exhibition of a drone and a 3D printer by the College of Engineering Innovation Center, among other innovative projects.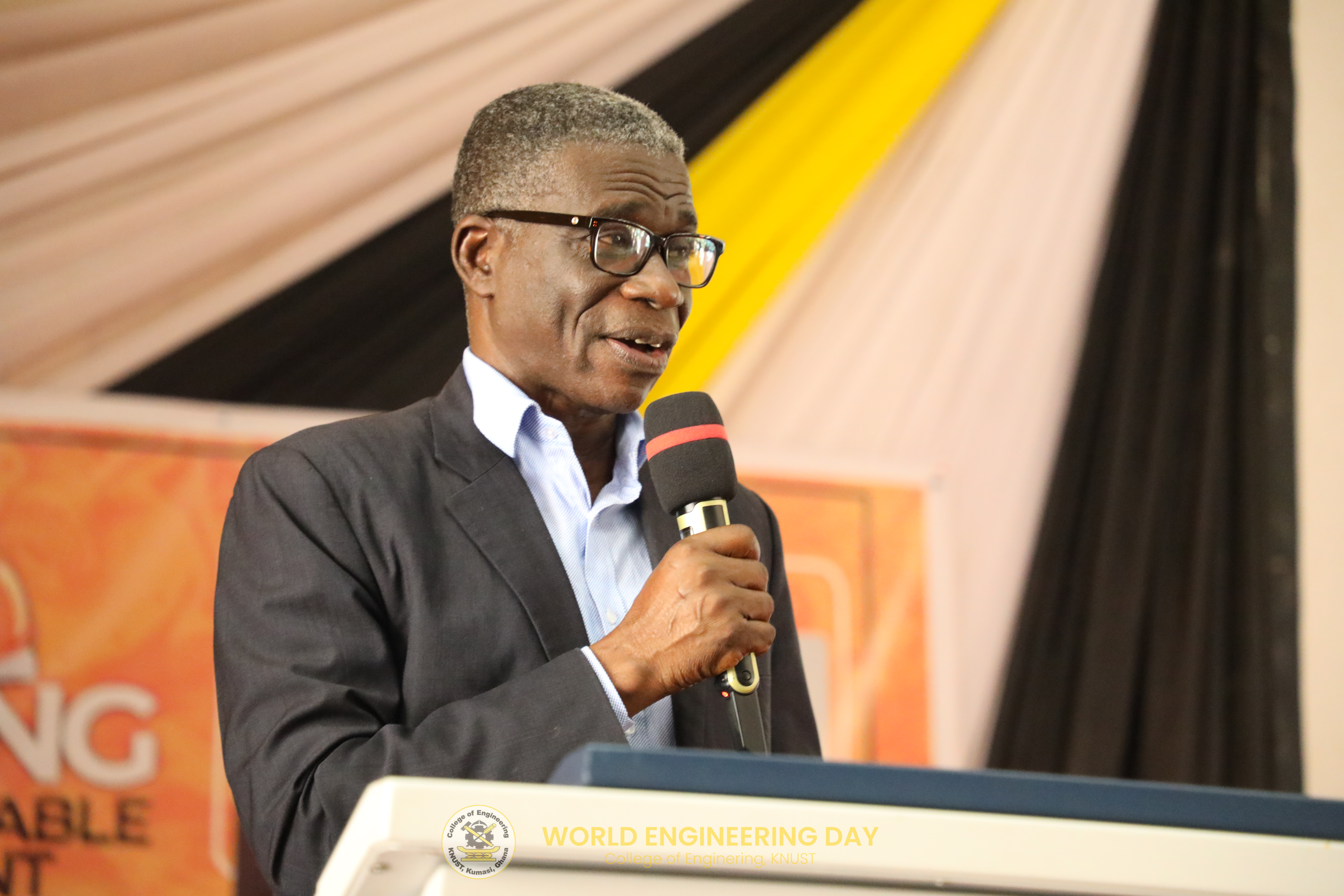 In his closing remarks, Prof. Samuel Innocent Kofi Ampadu, Chairman of the seminar, stated that more is needed for an engineer to innovate; innovation must align with the national policy and institutional frameworks. He urged institutions and national framework policies to assist engineers in their efforts to address the issues facing the nation.
He challenged students to look beyond what is taught in class. "Go out and excel, accept nothing inferior because your engineering design should be built the way you have designed it," he said.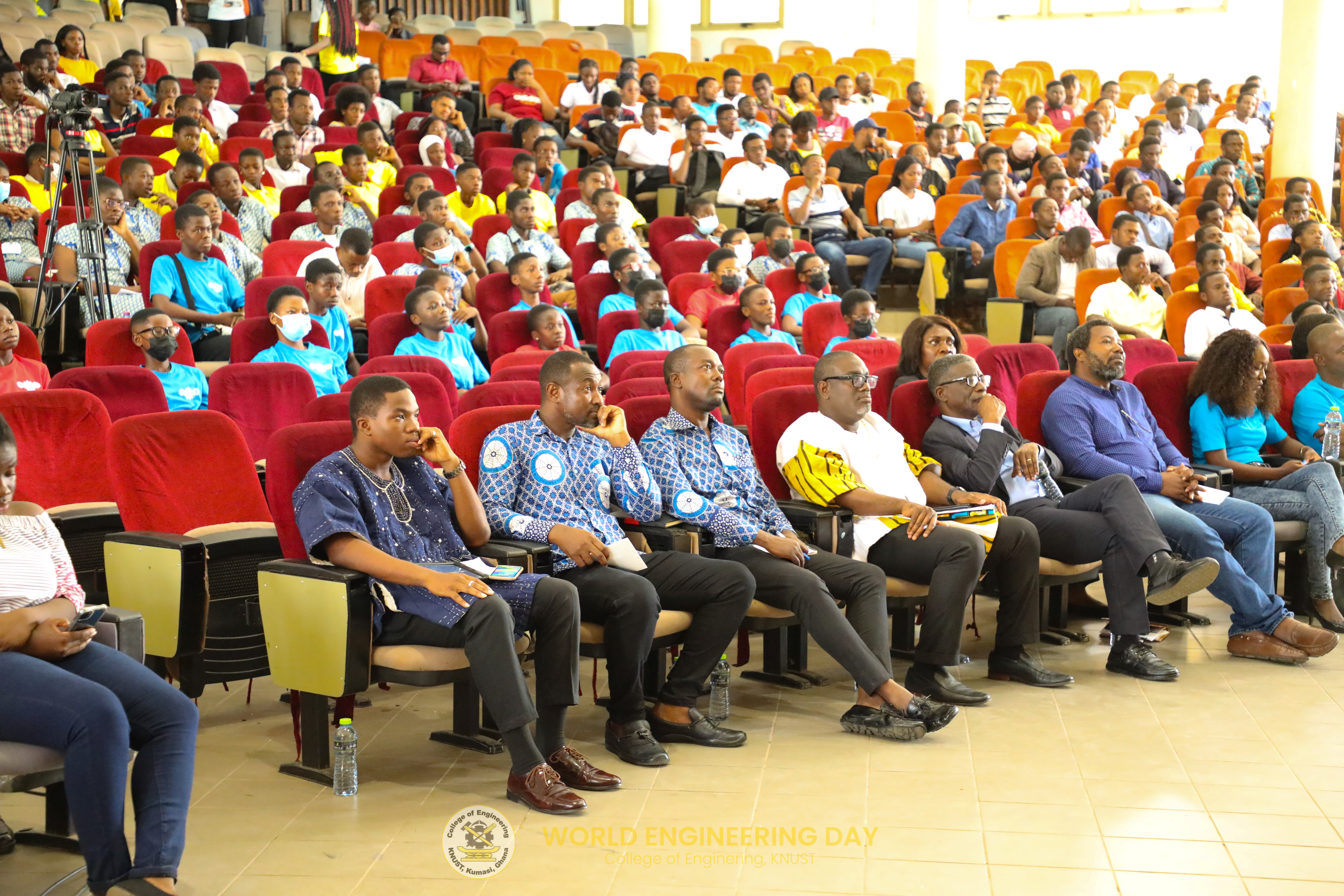 World Engineering Day is a global celebration of how engineers, technicians, and technologists make a difference and solve problems. UNESCO's General Conference proclaimed the March 4 World Engineering Day for Sustainable Development during its 40th session in November 2019.
This year's celebration brought together about 750 engineering students, aspiring engineering students from 6 Senior High Schools in Kumasi, Ghana Institute of Engineering (GHIE) Ashanti region, and College of Engineering students at KNUST.