From left: Thompson Attebila, Representative from AGI, Mr. Maximillan Blaim, Representative from Arqum, Mr. Philipp Poferl, Representative from Arqum and Prof, Jerry John Kponyo, Principal Investigator
The KNUST College of Engineering has been awarded a €104,700 grant to establish the Partner Afrika-Projekt. The Partner Afrika-Projekt is a consortium of Unternehmer Baden-Württemberg (UBW), Association of Ghana Industries (AGI), Kwame Nkrumah University of Science and Technology (KNUST), Arqum and Sequa. This Project aims at bringing together the partners of the project within the framework of the Special Initiative on Training and Job Creation between Unternehmer Baden-Württemberg (UBW) and the Association of Ghana Industries (AGI) together with the Kwame Nkrumah University of Science and Technology (KNUST) in Ghana.
The 3-year Project will be coordinated through the College of Engineering Innovation Centre and the KNUST Engineering Education Project, KEEP. The target for KNUST and AGI is to enable at least 100 students and 200 professionals from industry to benefit directly from the training the Project seeks to offer. Additionally, KNUST will collaborate with AGI to execute at least 10 impactful projects which will solve problems students identify while on internship.
The team from Arqum, Mr. Philipp Poferl, and Mr. Maximilian Blaim paid a courtesy call on the Vice-Chancellor of KNUST, Professor (Mrs.) Rita Akosua Dickson. The Vice-Chancellor stated that, the vision of the Project fits perfectly with the mission of KNUST which is to advance knowledge in Science and Technology through creating an environment for undertaking relevant research, quality teaching, entrepreneurship training and community engagement to improve the quality of life. The Vice-Chancellor congratulated the Principal Investigator and the team and wished them the very best in the implementation of the Project.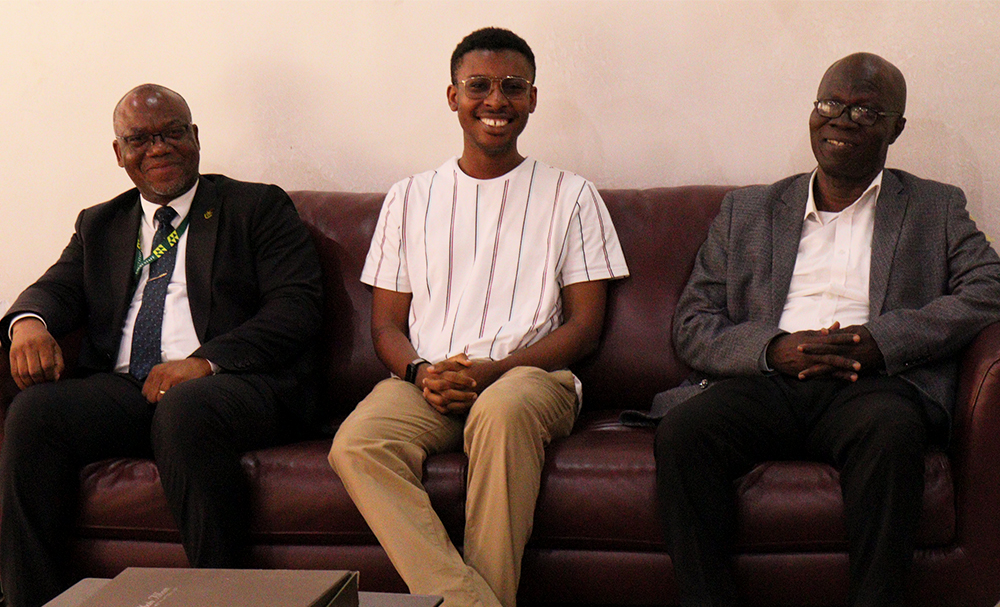 The Principal Investigator of the Project, Professor Jerry John Kponyo and the Project Manager, Mr. Obeng Okofo Dartey for the Partner Africa-Project KNUST paid a courtesy call on the Provost of the College of Engineering, Prof. Mark Adom-Asamoah, to formally inform him of the commencement of the Project. He acknowledged the importance of such initiatives in preparing students for industry. Adding that the success of the Project will go a long way to provide the importance of the continual review of the courses that are being offered by the University and how working with the AGI will help bridge the gap between industry and academia. He welcomed the idea and urged the team to diligently implement the pilot programs under the Project to allow for smooth integration into the University.